I started this page as a "display area" for the various blogs that I participate in, link up to, and enjoy. I haven't decided how to handle other bloggers' "buttons," but several of them require their buttons to be posted in exchange for a linkup and others are just people I appreciate enough to want to support.
3/5/12: Cookie's Chronicles Best of the Blogosphere Hops. I linked up my favorite post from February 2012.
10/8/11: Share Your Blog Posts Blog Hop – the goal is to share "real" comments with one another!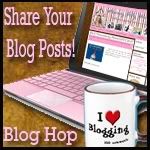 9/16/11: Hop Along Friday Blog Hop – with the a rockin' cute badge too!
7/9/11: "Social Media Girlfriends" creates pure fun via the weekly Twitter #SlumberParty. They do other stuff too (of course) by slumber party is my fave!
7/2/11: I love "Band Back Together." This blog's mission is to  "provide educational resources as well as a safe, moderated, supportive environment to share stories of survival. Through the power of real stories written by real people, we can work together to destigmatize mental illness, abuse, rape, baby loss and other traumas so that we may learn, grow, and heal."
6/19/11: I am adding Mindie's Party Mindie Style Link Up Button. This woman has a way with a bacon graphic:
5/30/11: I am adding the button for the Crazy Days of Summer Photo Challenge. I am thinking this summer ahead will be more "crazy" than "lazy" but we'll see!
5/8/11: I am adding a button for Heartfelt Balance/Handmade Life, a blogger I "met" when I cohosted a blog hop this weekend. Michelle is hosting her own hop and here's her button!
4/25/11: For now, Maria of Tough Cookie Mommy gets the first button "add." I enjoy Maria's Monday Mingles and love the fact that she teaches in the Bronx, a borough where I spent almost three wonderful work years at Fordham University!
4/26/11: It's another addition to my "BlogWorld Connections" page – the awesome Mother's  Day Giveaway 2011 at Five Minutes for Mom! Check it out!
4/26/11: Mommy Only Has Two Hands Hump Day Hop!
4/28/11: My Journey With Candida Week End Blog Hop:
4/30/11: The "Mom Pledge" – because I believe that there is unlimited potential in the "mom blogger" community to learn from each other, even when we are of wildly differing opinions, as long as we do it respectfully.
Wife of one, Mom of two, Friend of many. My pronouns are she/her/hers.