When the Mama Kat writing prompts for this week came out, I blithely ran a "random number generator" for one through five and came up with number two. The relatively easy part: write about a time someone made you smile. The not-so-easy part: write in poem format.
And that's how I ended up writing Just Shine:
Just Shine
I wear a white robe – my "acolyte uniform"
          I pass the priest the wafers, the wine, the water; I wash his hands
Each communicant kneels at the rail
          Dressed "to the nines," in sweats or jeans – and everything in between
She is all in something from "Justice for Girls"
          A shirt that has a pink bunny on it, with a pink rhinestone collar and glitter
Her shirt says "just shine"
          She is still a child – the balance has not at all tipped toward womanhood yet
The pink leggings match – the headband – the shoes with hearts on them
          It all coordinates – there is also an "Almost Too Cool" set with a baby blue puppy
I remember shopping with Tenley at Justice
          Charmed by the innocence of each image
Stressed by the cost, by her enthusiastic pleas not to wait until things got to the sale rack
          Now the images, prices, and sounds bombard me at Hollister and Abercrombie
 I smile and reminisce
          Wishing this child and her mom an extended stay in the time of "just shine"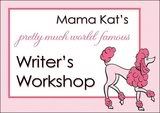 Wife of one, Mom of two, Friend of many. My pronouns are she/her/hers.